1.Main Findings
HKGI will prepare for you a detailed report to aid in the clinical diagnosis and care for your family member's or your condition. The Project team call this type of report a "Main Findings" report. It includes genetic variants that are classified as pathogenic/likely pathogenic according to the latest international guidelines.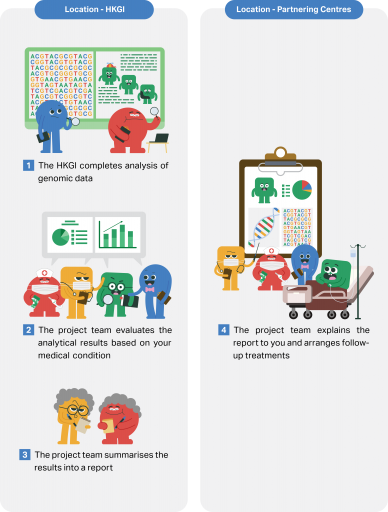 2.Notification and Follow-Up
After the Project team evaluates the result, a doctor or genetic counsellor will explain the report to you. If necessary (for instance, further clinical investigations are required), the Project team will provide follow-up or refer you to the appropriate clinical services.
The Project team understands that participants would like to have results as soon as possible. To bring you accurate and reliable results to the best of our capabilities, the Project team will take the time that is necessary to analyse the data and interpret the results carefully and thoroughly. For these reasons, it is hard to set a timeline on completing the report. The Project team appreciates your patience and understanding on this matter.
Please note that while the report might provide useful insights concerning the medical conditions of you or your family members, it is possible that no new findings will be revealed through the analysis of your samples.
Clinical treatment of certain diseases, such as cancer, is time-sensitive. However, analysing and interpreting findings from "Whole Genome Sequencing" takes considerable time and resources, and the results may not have a decisive impact on clinical treatment. Unless the analysis definitively provides new directions, the clinical treatment plan will not change.